Canviz helps Microsoft create amazing demos
Microsoft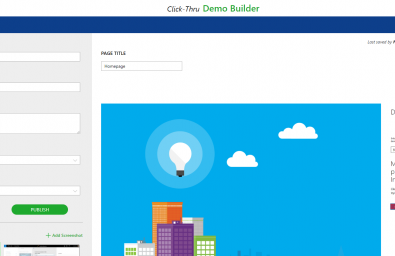 Microsoft has 100's of products that they need to create demos for. The ability to ensure that these demos are of high production value, easy to find and easily updated is central to their marketing strategy.
Demo Builder makes building demos, updating demos, finding demos and sharing demos much easier than any other demo software.
Microsoft creates demos for all parts of their organization and they need to ensure that these demos are up to date, shareable and easy to find. Their current solutions did not scale, demos were hard to find and it was not easy to update a demo if just one feature in the demo changed in some small way.
Demos are difficult to create, share and keep up to date
Demos are difficult to update with out starting the demo over
Difficult to find the correct demo
Canviz worked with Microsoft to create a web application that can be accessed by specific individuals in the company in order for them to upload images of the demo that they want to create. The user will identify hotspots on each image and then document if that hotspot on the page will point to another image in the demo or go to an external link. Additionally, each demo is tagged for easy searching. Once the user has found the correct demo they can add them to their favorite demos and ensure that the demo is always up to date.
The final Demo Builder product created an amazing authoring and editing experience that users of any technical level could create and share high production value demos that can be used through out the company. The demos could be shared directly through a URL, or downloaded into an HTML output that could be shared with anyone.